SpyAgent Download
---
SpyAgent - Powerful PC Monitoring and Surveillance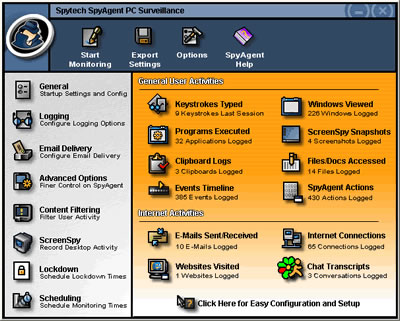 Need to track employees and monitor workstations at all times?
Ever need to keep tabs on your child or spouse while they use the PC?
Rating:

SpyAgent is our award winning powerful spy software that allows you to monitor EVERYTHING users do on your PC - in total stealth.
SpyAgent provides essential monitoring features, as well as website and application content filtering, lockdown scheduling, and e-mail delivery of logs


Records Keystrokes
Logs Website Visits
Logs Applications Ran
Logs Internet Connections Made
Logs Files and Documents Viewed
View Logs via E-mail

Records AOL/AIM/MSN/Yahoo/ICQ
Logs Passwords Entered
Records Windows viewed
Records WebMail, like Hotmail!
Grabs Screenshots of User Activity
---
SpyAgent is the award winning and powerful computer monitoring spy software that you need! SpyAgent gives you the power to log all keystrokes typed, websites visited, windows viewed, applications ran, internet connections made, passwords entered, documents printed, AIM/AOL/ICQ/Yahoo/MSN conversations made, documents opened, and even capture screenshots of the user's activities!

SpyAgent sets the bar for comprehensive monitoring and recording - all powered by an extremely easy-to-use graphical interface! Read below for all of SpyAgent's exciting features!
---
Surveillance and Monitoring

SpyAgent 's logging capabilities are unmatched. SpyAgent can log anything from what the user types, to the files they printed and programs they ran - all timestamped by date for easy viewing. All logs are easily saved and exported for later use. Content Filtering Features of SptAgent

SpyAgent not only acts as a powerful spy software solution, but also as a content filtering tool. SpyAgent can filter websites from being visited, applications from being ran by the user, and even chat messengers from being used while SpyAgent is active.
Application Filtering
SpyAgent allows you to control what programs users cannot run!



Website Filtering
SpyAgent allows you to control what websites users can and cannot visit!



Chat Filtering
SpyAgent allows you to control what chat messengers users can and cannot use while SpyAgent is running!
Security and Stealth Features of SpyAgent

SpyAgent has a large array of security and stealth features. SpyAgent is undetectable under all Windows versions (it does not even show up in the task manager on any Windows platform) and can circumvent popular third-party "spyware" detectors. SpyAgent has powerful lockdown and logging scheduling features, optional startup warnings, and much more. Easy to Use!

SpyAgent has always been known as being extremely easy to use. You can have SpyAgent setup and monitoring in seconds with its built in easy configuration wizard and intuitive graphical interface. SpyAgent can even be tweaked to smoothly monitor slower PC's! Spytech SpyAgent is the perfect utility for logging all actions that users make on your PC workstations. Whether you are a business owner, school instructor, concerned parent, or secure personal user, SpyAgent is for you if you demand highly efficient monitoring and logging power.

System Requirements
Windows 95,98,ME,NT4,2000, or XP



Pentium Class PC (133mhz or higher)



3MB Hard disk space
---
See Also: SpyBuddy | Realtime-Spy | iSpyNow | NETObserve | Nitrous Anti Spy | ChatBlocker | WebMail Spy | SpyAnywhere | SpyAOL